REVIEW: PLANNER PACKS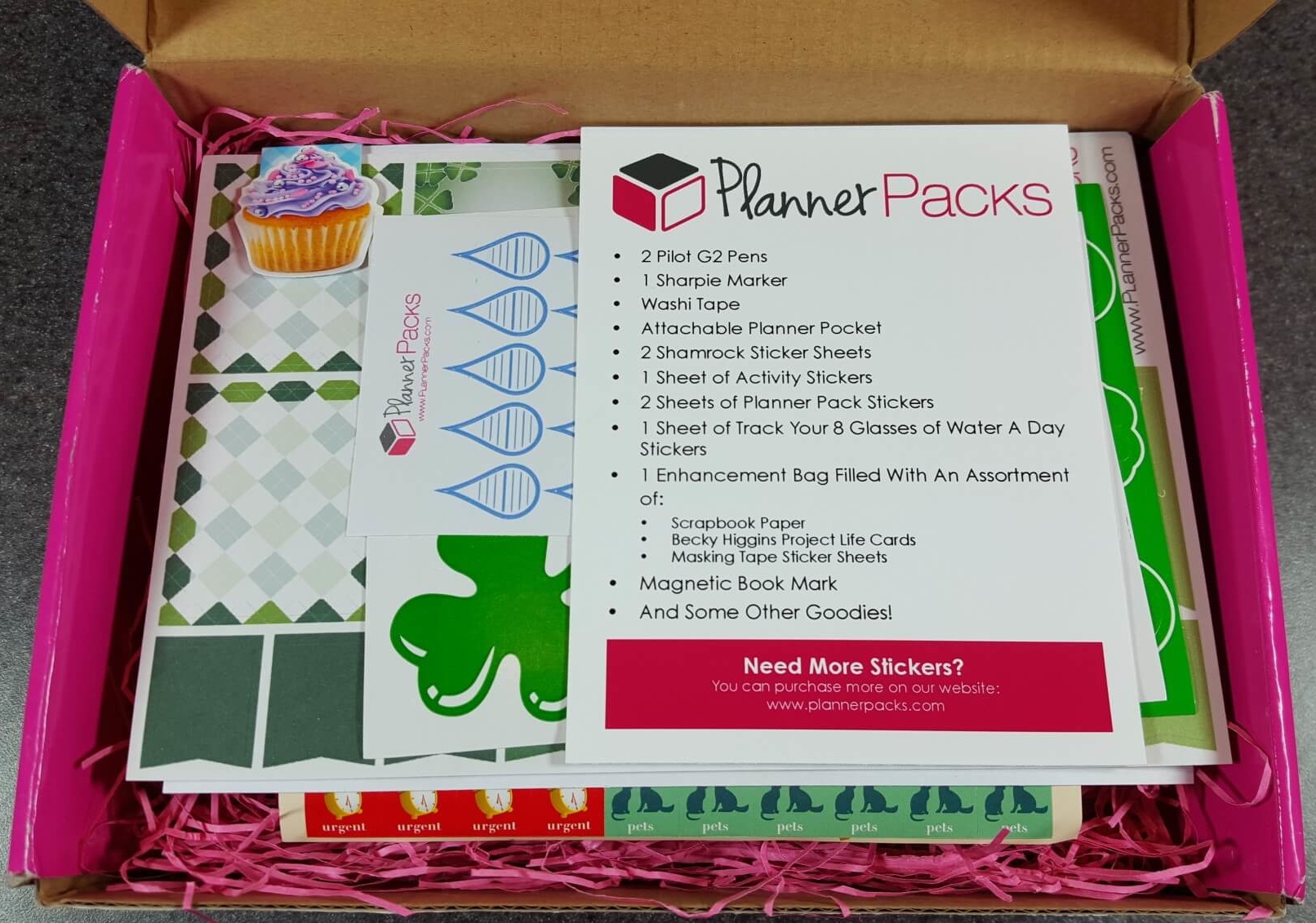 DISCLAIMER: I received this product for free in exchange for an honest review.
Planner Packs offers fun, cute, and creative supplies for planning out your daily, weekly, or monthly schedule. Lets get to the review.
LOOK: I loved the look of both the box and of all the products. The box and the products were both cute and trendy. The products offered looked just like the kinds of things that you might see on craft boards on Pinterest or on Instagram. The stickers were also super great for helping me keep track of everything.
PRODUCTS:
Pilot G2 Pens- These pens worked great. They moved nicely on paper and on cardboard.
Sharpie Marker- Another fantastic addition to the box!
Washi Tape- I love using Washi Tape for fun crafts.
Attachable Planner Pocket- Now this is a really creative addition. I loved being able to put a pocket to hold papers on my planner.
Stickers-This box contained a ton of stickers that I will be talking about later in the review.
Enhancement Bag-This bag was filled with scrapbook paper, Becky Higgins Project Life Cards, and Masking Tape Sticker Sheets. This is all stuff designed to enhance your planner.
Magnetic Book Mark-This is one of my favorite parts of the box. The book mark is super tendy, no surprise there, and is durable.
Other Goodies- I did receive a gel pen, a green and yellow colored pencil, and some sticky flags.
CONTENT: I think this box provides a lot of product. I was delightfully surprised when I discovered just how much product was in this stylish box. My planner looks super great and super organized after using the products in Planner Packs.
PACKAGING: Whenever I open a subscription box, I dont want to see product thrown in haphazardly. Thankfully, Planner Packs neatly packs their boxes so the products look great when they arrive at your doorstep each month,
STICKERS: If you are like me, you love stickers, probably a little too much. Planner Packs offers tons of stickers both in their boxes and on their website. If you order your box and decide you need more sticks, head on over to their
website
to purchase more.
SUMMARY:5/5! After reading this review, are you interested in Planner Packs? If you use the code NICOLE20 you can get 20% off your first month on your month to month subscription of Planner Packs!