REVIEW: ADNART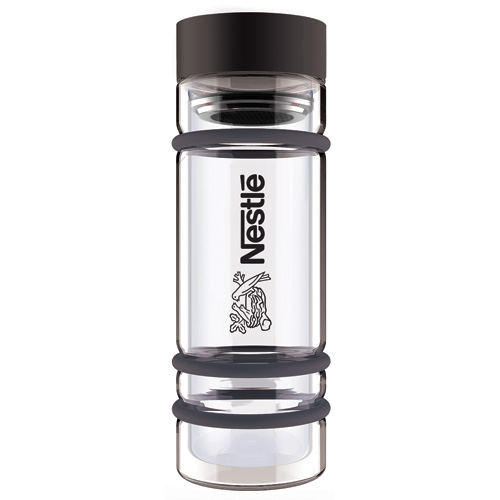 Disclaimer: I received this product in exchange for an honest review. The logos on the products are not a reflection of the product or the company I am reviewing. They serve only as an example.
Adnart offers products that are BPA free, odorless, tasteless, and stain resistant. These bottles are designed to be purchased in bulk with your company logo on them. As one can see from the picture, I received two glass bottles and one stainless steel tumbler. These bottles are all dishwasher safe. To protect the appearance of these bottles, one should avoid using chlorine or bleach and use a non-abrasive sponge or cloth. Do not freeze or microwave these bottles. Use caution when pouring hot drinks.
LOOK AND STYLE: The first product I received was the Cafe Latte Tumbler. This tumbler does come in many colors; however, I was sent a grey container with a black lid. The tumbler has a sleek finish to it making it look professional. This tumbler is a great tumbler to give out at promotional company events because of how sharp it looks. My own complaint in regards to the look of this product is the inability to close the lid. In the event that this tumbler would fall, the liquids inside would spill as well. The next product I received was the Bumper Tea Bottle. Like the tumbler, this product comes in a variety of colors, but I received the black one. This bottle is made of glass giving it a great chic look. The clear glass part of the water bottle really caught my attention. I really like clear water bottles because one can see inside. This gave the product an overall minimalist look. The final product I received was the Flavor It. The flavor it is a fruit infuser water bottle. As with the other products, the Flavor It comes in many different colors. I received a blue colored one. Like the Bumper Tea Bottle, I liked how this bottle was clear. Not only was the bottle clear, but the fruit infuser is clear as well. This allows me to see not only my water, but my fruit too. Overall, Adnart products have a professional look and are great to give to employees.
COLOR: The products on Adnart are not limited to just one color or even to just one color scheme. However, I did really like the colors of the product I received. I felt like black and royal blue fits in well with my personal style. With Adnart, you can choose the color of the product to match your company logo.
USE: All three of these products are simple and easy to use. The tumbler lid pops right off. Simply pour in the liquid and replace the lid. For the tea bottle, start by unscrewing the cap. Then one has a couple of options. One can pour in the tea leaves and water. After the tea has finished seeping, the strainer containing the tea leaves can be removed. Another option is to remove the tea strainer first. Then add in tea leave and water. Replace the strainer and enjoy!. The strainer is very close to the lid so it is entirely up to you! For the other bottle, simply unscrew the lid and remover the infuser. Place your desired fruits into the infuser. Re-attach the infuser to the lid. Add in water or another beverage and enjoy! These bottles are super easy to use!
QUALITY: I felt like all of these products were of high quality. As I have mentioned earlier, my own real concern involving style and quality is the lid on the steel tumbler. I feel that if one are not giving this product to children(or those prone to spills) it should be all right. The other two bottles were made of resilient glass. I was impressed not only with their look but with their quality as well.
RECIPES: When I first started making flavored water, I had no idea what to make. Here are my top three flavored water recipes to help you get started.
Citrus Cucumber Water- place 4 slices of lemons, 2 slices of lime, 1 slice of orange, and 2 thin slices of cucumber into the infuser and add water. Refrigerate for two hours to allow flavor to seep.
Cucumber Herbal-Water-Add 2 lemon slices and 2 thing slices of cucumber into infuser. Then add 2 crushed sprigs of fresh mint and 3 crushed sprigs of rosemary. Add water. Refrigerate for several hours. Garnish with a lemon wedge.
Cucumber-Melon Water- Add 2 thin slices of cucumber, 2 honeydew melon cubes, and 2 cantaloupe cubes into infuser. Add water and allow to refrigerate for 2 hours. Serve.
SUMMARY: Adnart offers products made by Asobu designed for innovative and creative business promotion.
Want more product reviews, style tips, and fashion ideas? Follow me on social media:
Business Email: nscottcontracting@outlook.com
Facebook: facebook.com/contractorcritiques
Twitter: @critiqueblog