REVIEW: USA PAN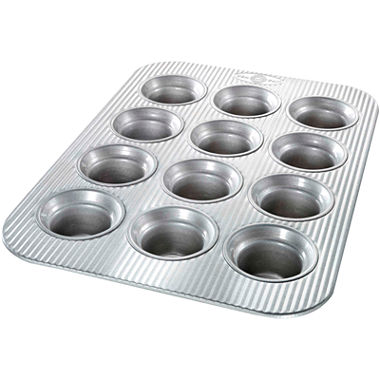 Disclaimer: I received this product for free in exchange for an honest review.

USA Pan offers quality commercial bakeware for personal use.

LOOK/STYLE: I received this 12 cup muffin tin from USA Pan. There is a ton that I love about this tin. The first thing I love is the color. A lot of muffin tins come in dark greys or blacks. I was pleased to see a brighter grey used in the creation of the tin. The most unique part of the product is the fluted surface. The surface is fluted on both sides. This aspect makes the product more innovative and chic. I have never come across a baking pan with this creative design. After using a product with this design, I never want to use a muffin tin without it! The final thing I noticed at first glance at the tin was the USA Pan logo. I actually like having the logo in the product. It gives the product some charm and character. Overall, I love the look of this tin.

USE: This tin is extremely easy to use. I do recommend including cupcake/muffin liners when baking to make cleaning up easier.

QUALITY: This product is high quality. The fluted surface gives the tin added strength that other products do not have. This product is also made with aluminized steel which provides resistance to hot temperatures and gives the product a vibrant, bright appearance. The product is also made with a non-stick silicone coating. Because of this, one does not have to use a cupcake/muffin liner. This coating is safe and natural.

DURABILITY: This pan is not only high quality, but it is durable as well. This product looked brand new after I used it. I was impressed with how well it held up.

MAINTENANCE: This product has a non-stick coating, so not much cleaning is needed. However, if cleaning is needed, simply place the product in the dishwasher.

SUMMARY: USA Pan offers bakeware with unique designs that works well!