REVIEW: WALLQUOTES.COM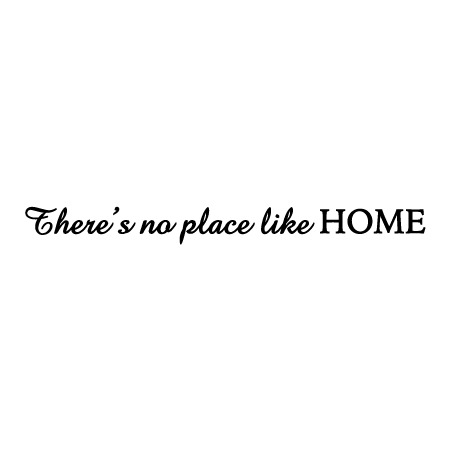 Disclaimer: I received this product for free in exchange for an honest review.

Wallquotes.com loves words and colors, and because of that, they offer unique and beautiful wall quotes.
LOOK AND STYLE: The quote I receive reads, "There's no place like home". I love so much about this quote. I like how the whole quote is horizontal. This made it easy to place in my room. The style is elegant and graceful. This quote will look great in any room; I placed this quote in my bedroom simply because my room doubles as my office. I also recommend placing this quote in the living room or the kitchen. Overall, I thought this quote, like all quotes offered, is beautiful and chic!
COLOR: I actually received this quote in grey; however, I decided to place a picture of the quote in black just so it can be seen easier. I was thrilled to get this quote in grey because it matched my bedroom so well. My room is blue/green with grey accents so having this quote in grey really helped to accent my overall room. Although grey looked amazing in my room, it might not go with the color of your room. That is why I am happy to say that Wallquotes.com offers 44 different colors for quotes. That is an astonishingly large color choice! Besides the actual quotes, the color options are my favorite part of this company.
APPLICATION: Applying this can definitely be a one man job; however, I needed a bit of help applying this, so I do recommend having someone help you when applying. The first step is to use the baseline of text to determine level and rub all over with squeegee. For those who have never shopped at wallquotes.com, a squeegee is an application tool that comes with your purchase. Then, using making tape as a hinge, flip up decal and peel off backing. Next, lay decal back down, and starting from center, squeegee all over. Finally, carefully peel back the transfer tape. If you would rather watch a video to learn how to apply the quote, click
here
.
WORDS: In this section, I will be talking about the quote itself. I absolutely adore this quote. This quote comes from a lot of places, but the most well known would have the be
The Wizard of Oz.
This book turned movie turned musical. This quote speaks truth, and that is why I love it so much.
FONT: The most unique thing about this quote is the use of multiple fonts. The chic font used for most of the font helps to give the quote a vibe of elegance. The bold font used for 'Home" really puts emphasis on the word, and draws attention in a good way. This font use is creative, innovative, and unique. I absolutely love it.
SUMMARY: Whether you are looking for powerful words or beautiful sayings, Wallquotes.com has something for everyone!