REVIEW: HERBAL ESSENCES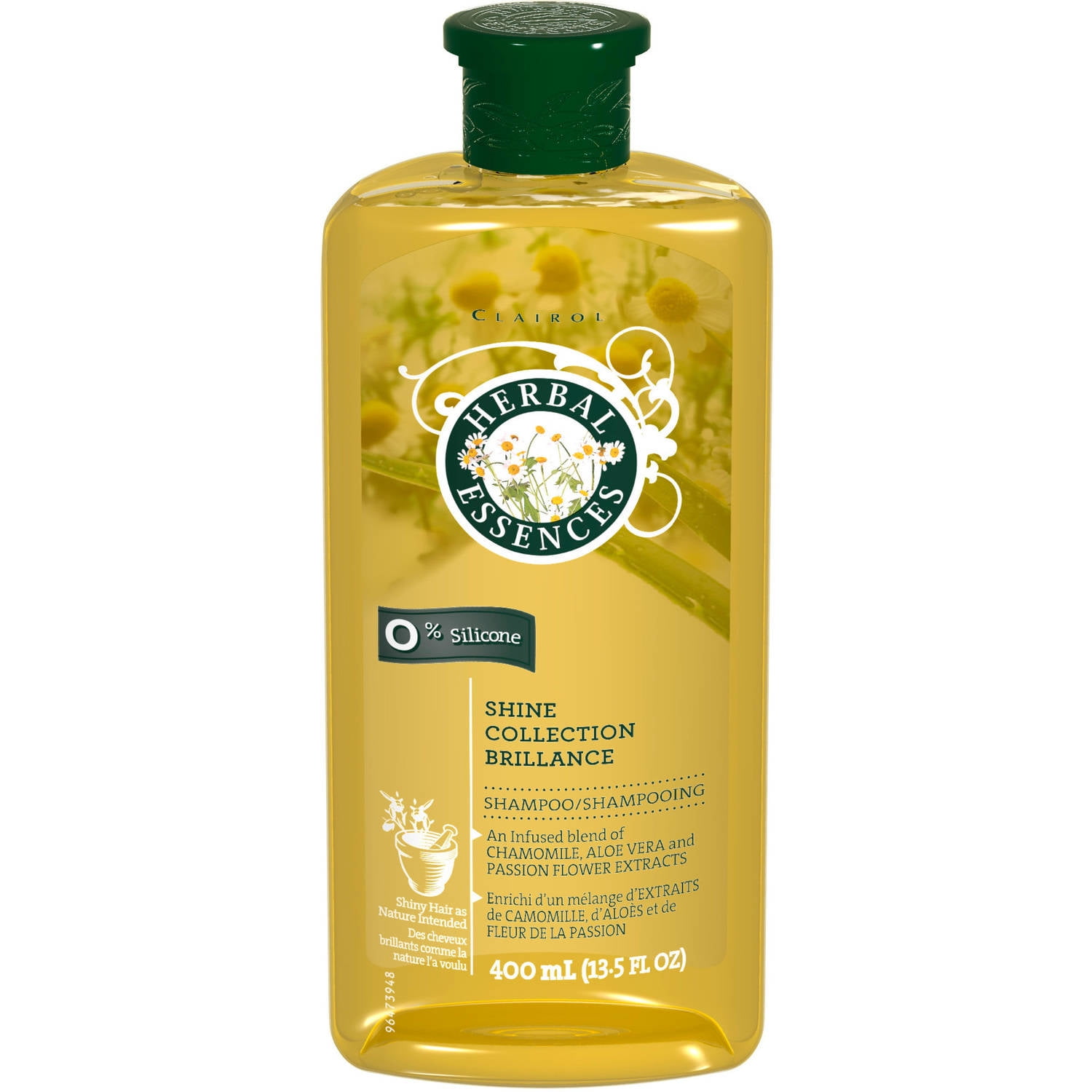 Disclaimer: I received product courtesy of BzzAgent in exchange for an honest review. Pictures are property of Walmart and Walgreens respectively.
BzzAgent
allows for regular consumers to try and review amazing new products.
STYLE: I received the Herbal Essences, "Shine Collection". This collection features both shampoo and conditioner.Generally speaking, both had very similar packaging; the only differences are the colors of the bottles and the quirky slogans that each has. For now, I would like to shed light on the my favorite aspect of the contains-the %'s. As you can see, the shampoo says, "0% silicone" while the conditioner says, "100% irresistible". Apart, these two slogans don't make much sense, but, when the bottles are viewed together, it gives the collection a sense of unity. I have yet to see anything even remotely like this, and I feel as though few shampoos and conditioners can be as unique as this. Herbal Essences took a more traditional route when it came to the colors of their bottles. Going w\\ith flow, the shampoo bottle is clear while the conditioner bottle is colored. However, Herbal Essences gave these traditions a modern twist: the shampoo bottle has a picture of flowers on the inside of the bottle while the conditioner features a picture on the outside of the bottle in which the bottle itself acts as a base color for the background. I found it very unique how both the shampoo and conditioner were very similar in color. In fact, everything in this collection seemed to fit into an olive oil tone. Moving on to the similarities, both bottles have a green cap that features the Herbal Essences logo. The logo itself reiterates the fact that this product is made from herbs. I am all for using natural ingredients when possible, and Herbal Essences certainly does make it readily available. Moving down the bottle, a picture of, what I'm guessing to be, passion flowers are shown. I am guessing passion flowers because this product is made partly from passion flower extracts. The bottles mention that Herbal Essences included chamomile, aloe vera, and passion flower extracts in this product, and that this product will give you shiny hair. I was immediately drawn by the mention of chamomile. Chamomile is one of my favorite teas, and I was excited to see what effect it would have on my hair. The backs of the bottle feature a short write up, Herbal Lore, directions, and ingredients. Overall, I found that this collection appealed to me due to its creativity, uniqueness, and unity.
FRAGRANCE: Ultimately, fragrance is the most important aspect of shampoo and conditioner. The bottle can be plain and boring, yet smell heavenly, and I will still buy it. Both the shampoo and conditioner have the same scent. I would expect nothing different seeing as how they are in the same line, so in this section, I will simply refer to them as one product. I am a huge fan of elegant, svelte scents that have just a hint of blasé. My hair needs to smell good, so I can feel good. I can't have confidence if I know that my hair just smells average or worse. Surprisingly, this product does not have a floral scent. With all the photos of flowers, I had almost expected one. It does, however, have a sweet and sugary fragrance. So much so that I dare say it is almost fruit-like. Sweet and sugary is absolutely a great November/December fragrance! If you are like me and like to smell like the season, I would highly recommend that you pick this product up for this upcoming fall and winter!
APPLICATION: No strange application with this product! Applying to hair is simply and easy. Add a dollop to your hand and create a soapy lather in your hair. Rinse the shampoo out immediately after, but let the conditioner sit for 3-5 minutes to help create a soft feeling. These products are easy to use and leave the user feeling elegant and refined.
EFFECTIVENESS: I have been using this product for five days now. I feel like this is an accurate amount of time to determine if the products truly worked. Obviously, it cleaned my hair and made it smell nice, but did it make my hair shiny? In short, yes, it did. My hair has been noticeably shiner under bright lights eg: the sun, makeup lights, etc. However, I have yet to see my hair perform under dim lighting. I hope that after further use, my hair will begin to shine! Until then, I will say that yes, I did see an improvement in the shine of my hair, but I had hoped to see more.
FEEL: Right now, its fall. For some that means falling leaves and harvests; for me, it means dry hair. I have been dealing with coarse, rough locks during the fall and winter for as long as I can remember. This product did not drastically change the feeling of my hair, but it did take it from coarse to average. I was really pleased the with the results of the product in regards to feel!
SUMMARY: I highly recommend this product. I also recommend checking out
BzzAgent
, so you can become a product tester too!
Looking for more Contractor Critiques by Nicole Scott? Find me on social media, email my business inbox, or contact me using the form on the right.
Facebook
Google+