REVIEW: LEE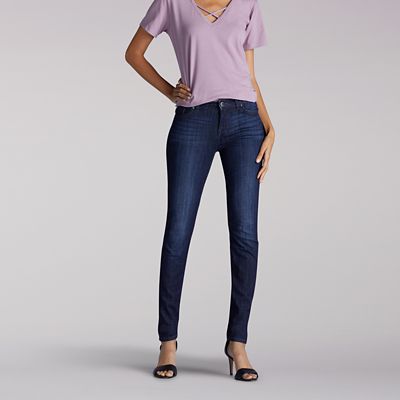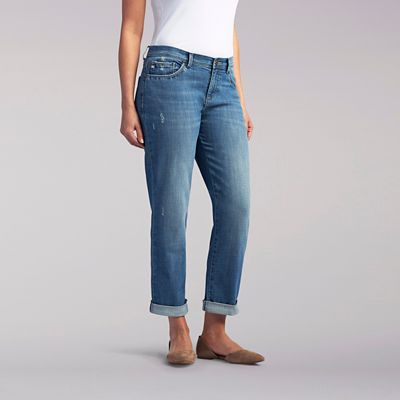 Disclaimer: I received product for free in exchange for an honest review. Pictures are property of Lee.
Lee offers a variety of designer jeans, shorts, shirts, and more. Read my review to discover why I love Lee!
STYLE: I received two pairs of jeans- the "Ava" Skinny Jean and the "Andi" Boyfriend Jean. Personally, skinny jeans are more my style, but that does not mean I cannot appreciate a good boyfriend cut. From the beginning, I was in love with the Ava Dream jean. At a glance, the Ava Dream Jean is trendy, stylish, and modern. Working with every style, this pair offers features that I absolutely loved. Going deeper into detail, these pants had functional front pockets! Male readers may blow this off, but, in all reality, functional pockets are hard to come by. Countless times have I scoured through a department store hunting for jeans with working front pockets only to come up empty handed. Lee offers fully functional jeans. Of course the front pockets are stylish, but they work too! The back pockets also feature a simple, yet elegant, golden thread design that works with every outfit! Moving on to the Andi, this jean has a stylish distressed design. Distressed denim is always in style, but it takes a classy woman to work it. These jeans are distressed on both the front and back in all the cutest places. This is a perfect addition to classy and modern styled closets. As you can see, these jeans are recommended to be worn rolled. I second this recommendation simply because it is the latest and greatest trend. I think rolling these jeans allow them to be worn better with flats than they would be unrolled. Much like the Ava Dream Jean, these jeans had functional front pockets. On the inside, its pockets feature something I have never seen before in jeans: inspiration messages. These jeans display self-love quotes. Among them are, "You are Beautiful", "Love Your Shape", "You are Original", and many more. I really value having these on my clothes because it really boosts my self-confidence. Too often do size limit how a woman values herself; with just a simple pair of jeans, Lee completely changes that. Of course, these messages are invisible to the outside world seeing as how they are on the inside. But just like in anything else: its what's on the inside that counts. In summary, Lee jeans are cute, stylish, and beautiful. Each design contains unique aspects that put them at one step above other jeans.
COLOR: Save for a few pairs, most jeans are blue. This may leave the reader believing that a "color" section is not truly needed. But what the reader forgets about is wash. Wash comes in all shades: dark wash, light wash, medium wash, plus a few in between shades that no one has really named. Personally, I am a big proponent of dark denim. However, I appreciate a good light wash when I see it. I got the best of both washes with Lee. The Ava Dream Jean had a great medium wash. Medium wash works as a great transitional wash. It accomplishes this by looking great with both summer and fall colors. I definitely label the Ava Dream Jean as a must-have transitional piece. The Andi features a lighter wash. The Andi has a really fabulous summer shade to it that is a can't miss. Lee provides perfect jeans with perfect washes.
FIT: Cram. That one little word. Four letters with a negative connotation. Why? Too often women cram themselves into jeans. They stuff themselves into clothes that don't fit because they have no other option. They suck in their stomach and squeeze themselves into jeans while painfully buttoning the button. Your skinny jeans should be tight, but they have to allow you room to breath. The Ava Dream Jean provided this. There was no squeezing or squashing-only a good fit. Your jeans should fit you as much as they fit your style. On the other hand, boyfriend cuts do not need to hang off your hips like a towel. I do not need to be swimming in my jeans. No need to bring the swimsuit, the Andi fit well. It had a boyfriend cut without being too large. Both jeans had a comfortable fit that looked great!
QUALITY: My washing machine is a killer. Shirts, shorts, skirts-It doesn't matter to my washing machine. The washer can and will destroy everything if given the chance. Lee said no to this. Lee jeans are quality. They aren't going to die after one wear, one wash. They last. They were in the same condition they arrived in: sans rips, tears, and holes, I have owned and worn a lot of pairs of jeans in my life. Whether that is good or bad, I don't know, but what I do know is this: these pairs are the highest-quality jeans I have ever worn.
FEEL: In a word: comfortable. Some dress for trends, others for expression, but me? I dress for comfortable- with a dash of style. Stiff jeans are the bane of my existence. Hard, starchy, rough denim is the norm among jeans. I abhor this. Just because it is the norm, doesn't mean I want to wear it. I would dare say that pants need to be the coziest part of an outfit. Lee jeans are comfortable. They are snug in the right places while being breathable in others. They offer comfort; they scream pleasantness: they radiate softness. These are the comfiest jeans out there.
SUMMARY: Lee offers a variety of designer jeans, shorts, and shirts. Both the Ava Dream Jean and Andi are cute, comfy, and quality. I highly recommend them both! My favorite would have to be the Ava from the Dream Jean collection. The patent-pending design mixes with Lee denim to create a jean that is stylish, comfortable, and versatile. Perfect for errands, traveling, and everything in between, the soft-knit lining and non-binding waist is just what every woman needs this fall.
Looking for more Contractor Critiques by Nicole Scott? Find me on social media, email my business inbox, or contact me using the form on the right.
Facebook
Google+
Business E-mail