REVIEW: BOOKCASE.CLUB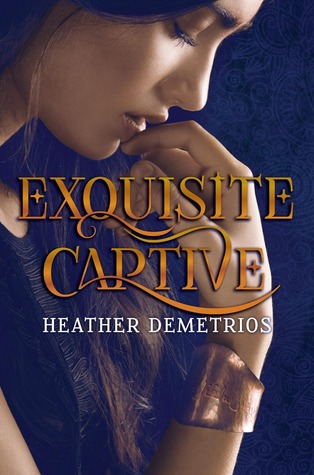 Disclaimer: I received product for free in exchange for an honest review. Pictures are property of Goodreads.
BookCase.Club asked me to review their "Blind Date" box. I was more than happy to accept the offer. This month's box started out with a quote: "Delicious Autumn! My very soul is wedded to it, and if I were a bird I would fly about the Earth seeking the successful autumns"(George Elliot). Let's get to the review of BookCase.Club
In
Exquiste Captive
, sometimes the shadows are safer than the light. Nalia is a Jinni that was captured and sold into slavery when her home planet was attacked. At first, this story is a bit difficult to understand. The terminology is confusing, and the story is fast paced. After looking up the terms I did not understand, the story became much more clear. She's on Earth and forced to obey her human master's every command. When an enemy offers her escape, she must decide what she is willing to pay for her freedom. Throughout this story, I was grappled by the action and loved the anti-hero main character. I especially enjoyed ancient mythological beings in modern day. This is an idea that has been used with other supernatural beings but never with Jinnis. I was captivated by every word. I found the character Raif to be confusing in a good way. I found myself both trusting and mistrusting him. I loved watching his character unfold. My favorite part was learning about Nalia's dark secrets of her past. I never expected them! A great plot twist. Overall, I thought this was a gorgeous inclusion to the month's box.
For Amy, the main character of
Texas Gothic
, normal is everything. But we all know normal doesn't mix with magic. Over her life, she has built up walls to protect herself against magic. She thinks she has finally found normacly when her aunts asks her to watch over her farm. Unfortunately, the house has a powerful presence living in it that has taken an interest in Amy, and none of her family's spells are strong enough to fight it. Will she except who she is destined to be? I fell in love with Amy and the farm from the first page. This is a must-read for Halloween!
SUMMARY: October's box was filled with wonderful and unique novels. These are great reads to enjoy this fall season. Use the code Nicole15 for 15% off! Happy Reading!
Looking for more Contractor Critiques by Nicole Scott? Find me on social media, email my business inbox, or contact me using the form on the right.
Facebook
Google+