REVIEW: TOVOLO
Disclaimer: I received product in exchange for an honest review. Pictures are property of Tovolo.
Tovolo was kind enough to send me a variety of product for me to try and review; because of that, this review will be a little different than most of my reviews. Instead of doing a longer write-up that discusses one or more similar products, I will be doing small write-ups of each of the products received with a summary at the end. If you like this kind of review, let me know in the comment section to the right!
COMIC BURST COOKIE CUTTERS: Now, don't act shocked when I confess, again, that I am a huge comic book fan. I love reviewing comic related products. This particular product is a throwback to the classics: the actual, original comic books. Nowadays, comic books don't have bursts that look this cheesy, but they definitely used to.The Comic Burst Cookie Cutters from Tovolo really pay homage to this vintage art in their own unique way. This is just a picture of one of the six cookie cutters included, and quite frankly, I loved the designs of all of them. The words, the designs, the punctuation. It is all a perfect throwback. Before this product, I never even had a chance at making cookies that looked this professional. Using these cutters, making cookies that are more than just bumpy ovals is easy and fun. Each cookie is simply imprinted with the comic burst designs. The imprint acts a guide to help you and yours make professional looking cookies every time you back! Plus, all the pieces snap back together for easy storage. Snap, cut, press, and you're done!
KING CUBE AND PERFECT CUBE TRAYS: I received two different ice cube trays from Tovolo. But, seeing as how they are ice cube trays, I felt as though I could talk about them together. I received the King Cube Tray( Green) and the Perfect Cube Tray(Blue). The king tray makes 2" cubes while the perfect tray makes 1.25". Personally, I felt that 2" was a bit too much, I really do not need cubes that big, and some of those large cubes had trouble fitting into some of my beverages. One thing I did like about both products was the material they were made out of: Silicone. Plastic can leak harmful chemicals into your products, e.g. plastic ice trays can leak toxins into your ice. Silicone is a great alternative that keeps you and your family as healthy as possible. However, silicone does not make ice melt any slower; in fact, nothing but the temperature will affect how quickly ice melts. I felt that the King Cube was really perfect for high-end, stylish beverages. For example, big cubes look great in ice teas and cocktails. This is the perfect tray for someone who loves to throw parties. There is only one way to properly entertain: with style. Giant ice cubes can make a statement that regular ice cubes just can't. These ice cubes look fabulous in drinks at parties, graduations, and other social events. For the more homey, there is the Perfect Cube. These cubes are crisp and stylish but more for everyday use. They make ordinary refreshments extraordinary. The Perfect Cube adds class to any drink with its chic alternative to traditional cubes. These stylish cubes make a refreshing addition to lemonade and ice tea. For both trays, be sure to wash with a diluted solution of vinegar and water when necessary. Like to spice things up? Try adding fruit, berries, or mint leaves to your ice. Tovolo gives you the power to make every aspect of your party your own.
FLEX-CORE: The nylon core makes this product rigid yet leaves the edges flexible. I am not exactly sure how nylon does this, but it makes cooking so much easier. These products are the ultimate scraper. Food seems to just come right out of the pot, bowl, or pan whenever I use this spatula and jar-scraper. I love how the asymmetrical head allows for me to take full control of the surface area. I determine how much of food I pick up based on how I hold the spatula or jar-scraper. While the core is durable nylon, the outside is flexible silicone. I have already mentioned before why I love silicone more than plastic, but in these particular products the silicone is flexible. I needn't worry whether or not I might brake this spatula or jar-scraper while using in; in fact, the thought never crossed my mind while cooking with it. These products can also withstand heat up to 600 degrees Fahrenheit. I don't really cook anything at that high of a temperature, but it is nice to know that these products are perfect for whatever I'm cooking.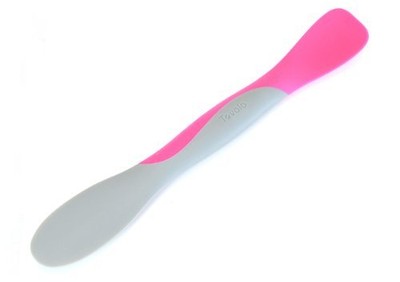 SCOOP AND SPREAD: This product was the hardest to write about simply because it has so many uses. The end that looks like a spoon is a flexible silicon while the other end is a bit firmer. This allows me to use one end to scoop products, like butter, up and then spread them around, say a pan, with the other end. This has really made buttering pans, and large quantities of bread, easier for me. I would not actually recommend cooking with it as it is not intended for cooking. However, it is great to use during cooking and food preparation.
ICE CREAM SCOOP: This product is heavy. I have never felt an ice cream scoop that felt like this one. Its weight is what really makes this a smarter scoop. Its weight allows it to scoop up even the coldest of ice creams with ease. No need to use your silverware when this sturdy scoop is around! What is really unique about this product are its feet. Its feet never tip over or tilt. What they do is allow the head of the scoop to stay off your counter; thereby, keeping it clean. No more sticky messes! The resting feet elevate the scoop is something I have never seen before. It is totally unique, creative, and innovative. Plus, the design of the scoop helps you create beautiful looking bowls of ice cream, This scoop will be the envy of your friends
ICE CREAM TUB: Remember that ice cream scoop we just talked about? Well, here is a perfect place to put it to the test! Tovolo's Glide-A-Scoop Ice Cream Tub is perfect for fun, frozen treats. It easily stores both store-bought and homemade ice cream, gelato, and sorbet. Stop storing your ice cream in that gross sopping mess of a cardboard container that you bought your ice cream in. Store it in a safe and sanitary environment like the Ice Cream Tub from Tovolo. This tub stores up to 1.5 quarts. That's a lot of ice cream! The slender design of this product is really what makes it super easy to scoop and share. The non-slip base keeps the container steady when you scoop. (this is perfect for those with kids). Additionally, this product easily fit into my over packed freezer. It is the non-slip easy fit product that every household needs.
STRAWBERRY HULLER: This perfect product allows you to simply push and hull strawberries in seconds! It removes the hull and leaves with ease. Why remove the hull or leaves? For adults, this is not really an issue, but the hull and leaves can cause problems with children. Removing it makes it easier, and safer, for them to enjoy their favorite fruit. When using this product, I noted that their was no waste and that the product was insanely easy to use-mostly due to the easy-grasp handle. None of the strawberry got ruined by the hulling process. After hulling, comes cleaning. Luckily, the open ended straw on this product allows for an easy clean. To hull, insert from base and push out hull. Then, note how there is less waste!
PARING KNIFE: Firstly, I loved the grip on this product. I, being my clumsy self, have a tendency to slip all the time-including while cooking. I have, in the past, had my hand slip and get cut by a knife. While it was nothing serious then, it could have very easily become serious. Thanks to the secure and comfortable grip of this paring knife, I no longer need to worry about that. This 3.5" knife offers precision cuts while its small size makes it perfect for picnics or lunch boxes. It is great for peeling and dicing fruits or vegetables. This knife is made of a high-carbon stainless steel and stores away in a protective blade cover.
SUMMARY: As you can see, Tovolo offers a wide variety of products in an even wider variety of colors. Each product is top-of-the-line and high-end while styling modern and cute. After using Tovolo, I never want to use another brand again.
Looking for more Contractor Critiques by Nicole Scott? Find me on social media, email my business inbox, or contact me using the form on the right.
Facebook
Google+