REVIEW: HANDMADE CATHOLIC SHOP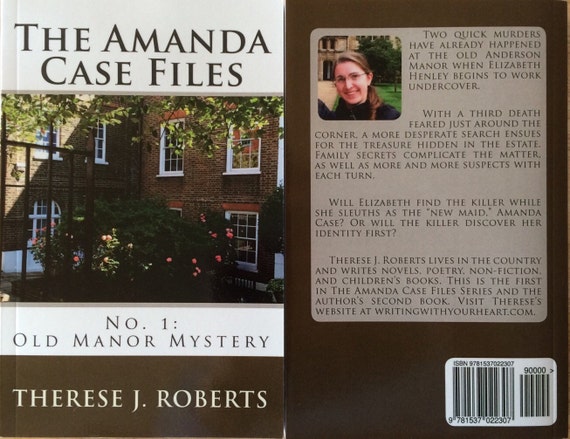 Disclaimer: I received product in exchange for an honest review. Picture is property of Handmade Catholic Shop.
Special thanks to author Therese J. Roberts for giving me a signed copy of her book!
In
Old Manor Mystery,
readers quickly learn that two murders have already occurred at the Old Anderson Manor before protagonist, Elizabeth Henley, begins her work. At the very beginning of this novel, I was captivated. It has been quite some time since I was given the chance to read a murder mystery. This book heavily reminds me of some of the classic
Nancy Drew
tales in the sense that the mystery actually draws the reader in. Soon, readers find that a third death is feared while a desperate search begins to find the treasure hidden within the estate. Family secrets begin to complicate the matter as well as add in more and more suspects with each turn of the page. I was drawn to the suspects. I found myself captivated trying to figure out who committed the crime. Will Elizabeth find the killer or will the killer find her first?
This lighthearted mystery by Catholic author Therese J Roberts featured the perfect mystery story for me. Her use of diction, imagery, and rhetoric kept me interested and connected with the story. The novel is also wholesome and perfect for young teens or adults. Coming in at 270 pages, I found that this was an easy yet entertaining read for me. Not too long, but not too short either. Therese also offers to sign all customer's books free of charge! Using outside sources only for printing, the owner of Handmade Catholic Shop writes, edits, proofreads, and designs her own books.
The owner of Handmade Catholic shop (penname: Therese J. Roberts) lives in the country and writes a variety of literature.She is a Catholic author with a BA in English and Literature and has loved the written word for as long as she can remember. This is the first of the
Amanda Case Files
series and Therese's second book. I encourage all mystery fans to check out Therese's
website.
Handmade Catholic Shop sells religious products on their
website
and talks about a variety of topics on their
blog.
Donating 10% of profits to the Catholic church and providing care packages for American troops, Handmade Catholic shop sells scapulars, rosaries, chapel veils, stationary, and more. For more information, you can email Handmade Catholic Shop by clicking
here
.
While it is too late to order a gift for Christmas from Handmade Catholic Shop, this book makes a perfect gift for holidays throughout the year. I highly recommend it to all mystery fans as well as to those who are new to the mystery genre. This novel is a great read!
Ready for more me? Check me out on Social Media:
Nicole Scott:
Facebook
Instagram
Business and fanmail- use the form on the right!