REVIEW: HANDMADE CATHOLIC SHOP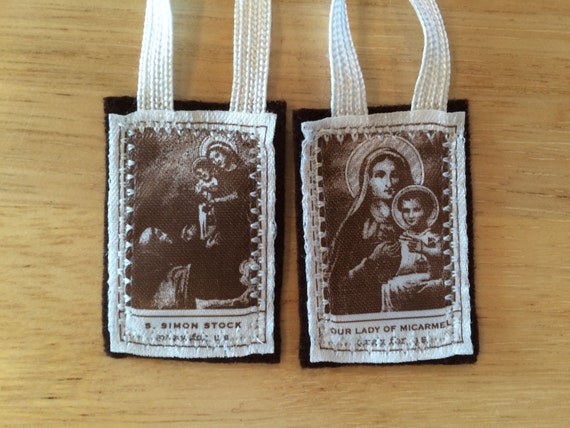 Disclaimer: I received product in exchange for an honest review. Picture is property of Handmade Catholic Shop.
Handmade Catholic Shop (on etsy) products can be found on Handmade Catholic Shop's
website
while more information can be found on their
blog.
Handmade Catholic Shop sells a variety of products, including scapulars, rosaries, chapel veils, and stationary, and donates 10% of their profits to Catholic Churches. Handmade Catholic Shop also makes an effort to donate to American troops overseas. To contact Handmade Catholic shop, click
here
to email them.
I received this 100% brown wool scapular from Handmade Catholic Shop. I love knowing that it is handmade and not mass produced. The white braids are durable and contain absolutely beautiful stitching. This is a lovely sacramental. Reminder that this product can be a choking hazard for young children.
Like many children, I received my first scapular medal at my First Communion; however, I have never owned a true scapular until now. I found that the brown scapular is a lovely scapular to start with.
I was thrilled to see how fast this product shipped to me. Like all consumers, I appreciate a fast delivery. I received this product only two days after it was shipped out to me. Handmade Catholic Shop really does have a quick delivery.
Handmade Catholic Shop offers quality religious items made in the U.S.A. I highly recommend that all Catholics check out the simple, yet stunning scapular selection found on their website!
Ready for more me? Check me out on Social Media:
Nicole Scott:
Facebook
Instagram
Business and fanmail- use the form on the right!