REVIEW: HANDMADE CATHOLIC SHOP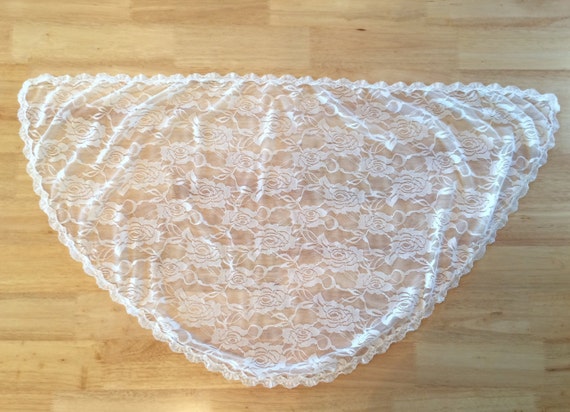 Disclaimer: I received product for free in exchange for an honest review. Picture is property of Handmade Catholic Shop.
Handmade Catholic Shop sells religious products on their
website
and talks about a variety of topics on their
blog.
Donating 10% of profits to the Catholic church and providing care packages for American troops, Handmade Catholic shop sells scapulars, rosaries, chapel veils, stationary, and more. For more information, you can email Handmade Catholic Shop by clicking
here
.
I received this white chapel lace veil from Handmade Catholic Shop. Previously, I reviewed a
triangular veil
, and in that review I mentioned that I liked semi-circular veils more. Well, I finally got the opportunity to review one. Of course, the semi-circle design instantly captivated me, and I loved the fact that this product is handmade in the US. The soft rose lace design draped beautifully on me; I truly felt like a princess. The scalloped trim was feminine without being too girly. This is perfect for prayer and Church.
As I'm sure you guessed, this handmade veil is delicate, so washing can be tricky. Although I have yet to need to wash my veil, owners who do need to wash must handwash it in cool water and lay it out to dry. Gently iron if needed.
Handmade Catholic Shop offers high-quality religious items handmade in the USA. This graceful veil is perfect for girls both young and old, and makes a beautiful Confirmation gift.
Ready for more me? Check me out on Social Media:
Nicole Scott:
Facebook
Instagram
Business and fanmail- use the form on the right!