REVIEW: SUNRISE MARIAN DISTRIBUTION
Disclaimer: I received product in exchange for nn honest review. Pictures are property of Sunrise Marian Distribution.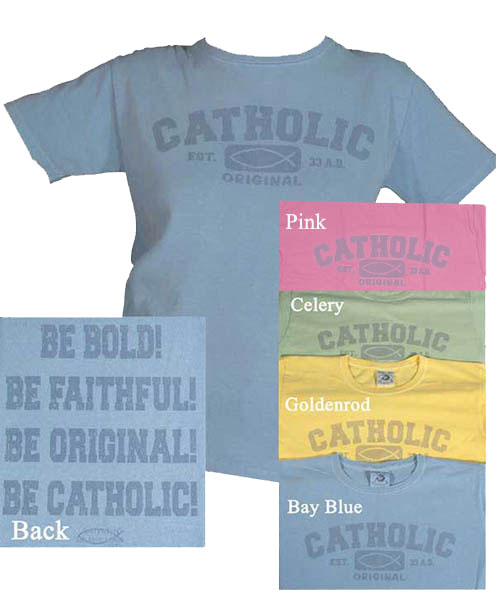 Every product I will discuss in this post can be found on Sunrise Marian Distribution's
website.
Please direct all questions about Sunrise Marian Distribution to
this
email address. Sunrise Marian Distribution is managed and owned by Michael and Colleen Arsenault and ships to both the US and Canada. Located in Ontario, they are the official Canadian Distributors for Ascension Press. Their website features common Catholic prayers such as "To Jesus Through Mary", "Most Sacred Heart of Jesus Have Mercy On Us', and "Our Lady of Guadalupe, Patroness of the America's and the Unborn, Pray for Us", Sunrise Marian Distribution encourages all consumers to ask for free shipping and 10% off on your first order over $100.
Before I discuss the Catholic tees, I would like to bring up one product that has no religious connotation whatsoever. The Kangen Water helps water return to its most purified state. This product provided you with anti-oxidant, micro clustered, alkalized, ionized water. This is the ultimate home model that will hydrate your whole family. A large variety of celebrities, including President Obama and President-Elect Trump, have changed their water, and their lives, by using Kangen Water. You too can have the best water in your home. Kangen water is sanitizing, beauty-enhancing, and cleansing. Why not give it a try?
I received two shirts from Sunrise Marian Distribution. The first was the "
Who started Your Church
" graphic tee and the other was the
Catholic Original
tee. The first shirt allows the wearer to easily proclaim the Gospel through vivid graphics and an impacting message. the graphics themselves were quite clear and striking. I found that they stood out from the black well and really gave the shirt some character. The message of the shirt is also very strong and moving. It is simply a great way to get the word out about the Catholic faith. The shirt is pre-shrunk 100% black cotton and is offered in sizes S-XXXL. I found that this shirt did have a bit looser fit. It was definitely a lot looser than I was used too, but I would not classify it as too big. If you prefer a bit of a tighter fit, definitely go a size down. The back of this shirt features a list of many different religious denominations with their founder, and, at the bottom, is Catholic Church: Year 33, Founder: Jesus Christ. 2000 Years of Christian Tradition". This is a clear and effective way to evangelize. This exceptional graphic tee is truly the perfect way to wear your faith and take it to the streets!
The second shirt is also a great way to wear your faith on your sleeve. This fantastic pre-shrunk 100% tinted cotton shirt comes with tinted text and comes in women's styles. I received the shirt in pink and loved the color. It is a soft, pale pink that really gives off an aura of religious femininity. I was worried about the text being too light on the shirt, but, having received it, I found the printed text to be dark and bold. This shirt can easily be read from a close distance. Unlike the other shirt, this tee is a women's cut, meaning that it fit me better than the unisex shirt did. Because of this, I found this shirt to have a much more comfortable and familiar fit. If you are not a fan of pink, fear not; this shirt comes in a variety of colors and comes in sizes S-XXXL. No other churches or institutions can claim to be original est in 33AD. So, in the words of St. Paul, "put on the faith" in this shirt!
Sunrise Marian Distribution is one of Canada's largest online Catholic stores which carries Catholic books, DVDs, and apparel.
Ready for more me? Check me out on Social Media:
Nicole Scott:
Facebook
Instagram
Business and fanmail- use the form on the right!